Online Banking
Close online banking

Home
About/News & Information
Getting a Home Loan from a Local Lender
Getting a Home Loan from a Local Lender
Find flexible home lending options that fit your budget and lifestyle.
Why You Should Get A Mortgage from Your Local Credit Union
The Arizona housing market is heating up and interest rates are on the rise. If you're looking to buy a home, we know it may be one of the largest investments you will make in your lifetime. At Credit Union West, we want to support your goals and aspirations of buying a home with flexible lending options that fit your budget and lifestyle. 
There are many benefits to obtaining your home loan from a local lender, especially if you already bank with that financial institution. Here are three reasons why you should consider getting pre-qualified for a home loan with Credit Union West:
Local expert advice so you can buy with confidence - Whether you are a first-time homebuyer or a seasoned homeowner, we have an in-house team of licensed professionals to guide you through the lending process. You'll receive personal, top-tier service so you can buy with confidence. As your hometown lender, we're proud to offer you convenient, in-person, and online application options. Either way you choose to apply, you'll receive quick decisions on your loan and expert advice when you need it. 


Financing to fit your budget and needs - Our highly competitive loans feature low rates, low closing costs, and processing procedures that save you time. We offer lending options for first-time homebuyers, U.S. military veterans, and even homes priced up to $1 million. These lending programs help qualified borrowers get a better interest rate, smaller down payment, or both.   


Easy auto-payments with Online Banking -  Choosing to borrow where you bank means you can see all of your accounts in one place. Mobile and Online Banking provides you a snapshot of each account you own. It also lets you set up automatic payments from your checking or savings account to your loan with ease.
Our full-service mortgage team is here to help you choose a loan that meets your needs and fits your budget. Whether you're looking for your first home or next home purchase, let our loan experts help you secure the lending options you need to get into your dream home!
MORTAGES AND HOME LOANS
Purchase Your Next Home with the Right Loan

Featured Rates1
12/05/2023 rates as low as... 


CONVENTIONAL

VA
FHA

Jumbo

Interest Rate

5.750%

6.125%

6.375%

6.125%

6.500%

6.125%

6.500%

6.375%

Term

15 Year

20 Year

30 Year

15 Year

30 Year

15 Year

30 Year

30 Year

Points

1

f

.75

f

.875

f

1.375

f

1.375

f

1.375 

1.25

.875

APR2

6.113%

6.385%

6.586%

6.825%

6.931%

6.553%

6.750%

6.491% 

Payment

$1661
$1447
$1248
$1701
$1261
$1701
$1264
$4991
Contact us for additional loan programs including Down Payment Assistance, Alternative Document Programs, and Adjustable Rate Mortgages!
1 Rate and Payment quotes for Conventional, FHA, and VA loans are based upon the rate assumption of a $200,000 loan amount and 40% down payment (net equity). Rate and Payment quotes for Jumbo loans are based upon the rate assumption of a $800,000 loan amount and 40% down payment (net equity). Rates, Payments and/or Fees may be higher based upon your credit score, LTV (loan to value), and purpose. The rates posted are indications only and are subject to change without notice. Your actual rate and/or points may be different, as many factors can affect the final interest rate. 2 APR = Annual Percentage Rate.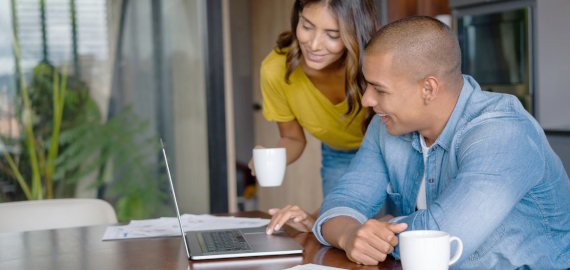 With inflation, rising gas prices, and the higher cost of housing, it can feel like no matter what you do, you can't get ahead. While these things are out of our control, honing your budgeting skills can help you get control of your money.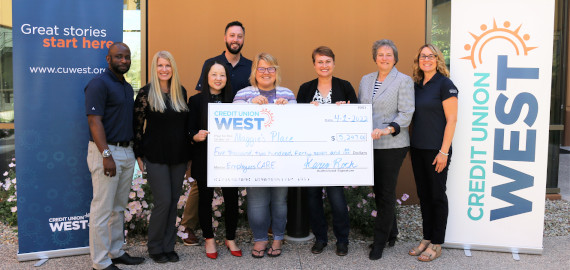 In their first donation of 2022, Credit Union West employees gifted $5,247 to Maggie's Place, a nonprofit organization that helps pregnant women facing homelessness by providing safe housing, life skills classes, and counseling.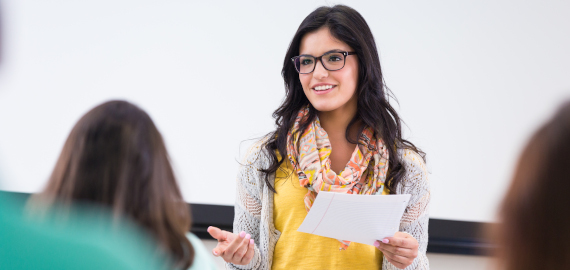 For the third year in a row, the Innovation Challenge gives GCC students an opportunity to pitch their ideas for a business that solves a problem or makes a difference in their community. Five thousand dollars has been awarded.
Credit Union West
Member Survey
On a scale from 0-11, how likely are you to recommend Credit Union West to a friend or colleague?
There was an error submitting the form
Thank you for your feedback!