Online Banking
Close online banking
Learn more about the robust banking and budgeting features available in your Online Banking and Mobile App.
Online Banking Features and Benefits

Discover the fast, simple, easy-to-use Online Banking interface, featuring real-time details and tracking, upgraded security, integrated budgets, goals and trends, advanced search, and alerts.
Read below to learn about some of the incredible features you have at your fingertips.

Online Banking Capabilities 


categorize spending and ANALYZE trends
All transactions are auto-categorized based on merchant type for your convenience. You can re-categorize or manage transaction categories as needed.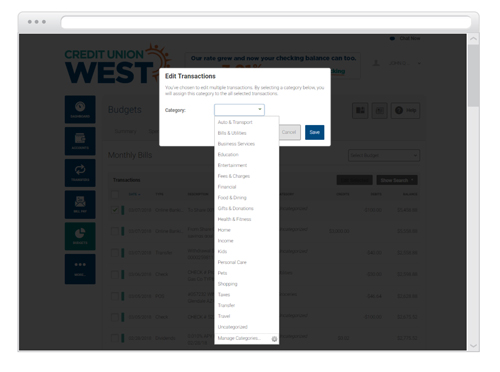 Manage External Accounts
Manage all of your funds in one interface by linking external accounts. right from your phone to track spending, budget, pay bills and more!
Create Budgets and build savings goals 
Build budgets and savings goals based on your spending and accounts. Link accounts to your goals or allocate savings towards new goals whenever you'd like.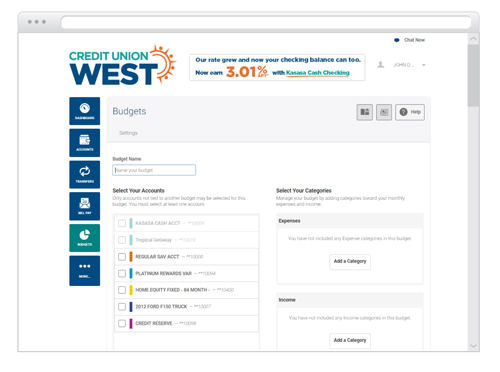 Personalize controls & Security
Personal Display
Under your account settings you can personalize your display theme, manage account nicknames and customize your toolbar for quick access to your favorite widgets.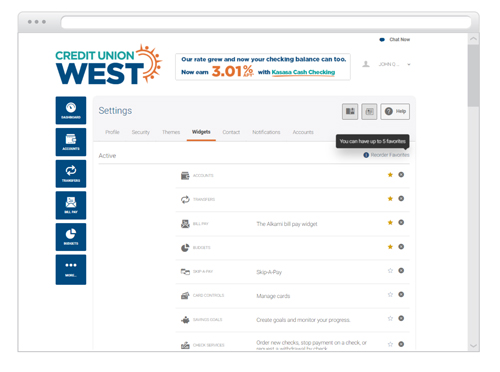 personal Security Settings 
Under security settings, you can select your preferred authentication method, store personal device information, and view your login history.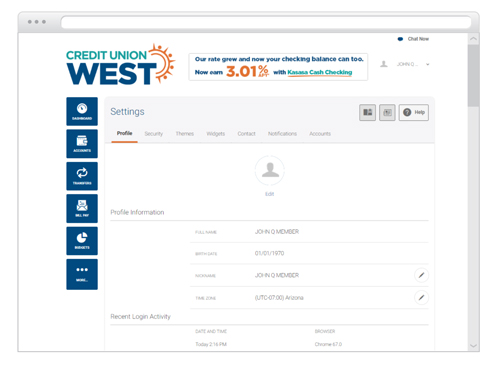 Advanced Search, Location Services, & Communication
 Search and locations
The advanced search feature allows you to filter, view and search your accounts and transactions seamlessly within your accounts widget. Location services offer quick branch and ATM searches conveniently display in order of your current proximity.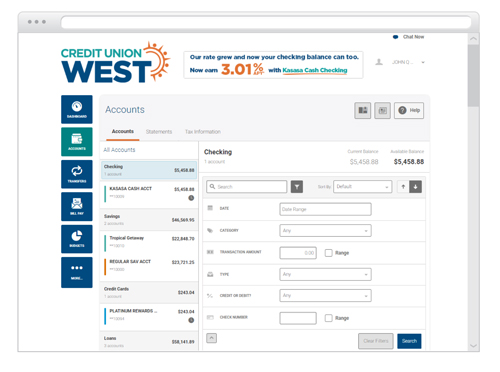 Communication 
Get fast account support through the Secure Messaging Inbox.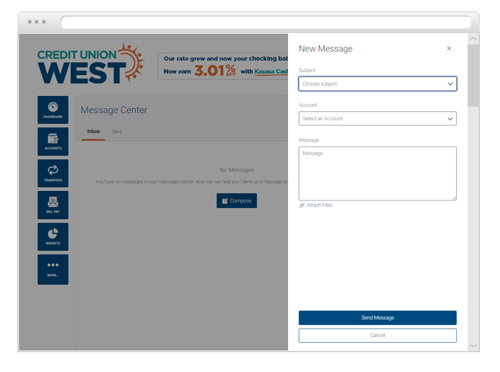 Enhanced Bill Pay
Conveniently pay bills with the tap of button, right from your login dashboard.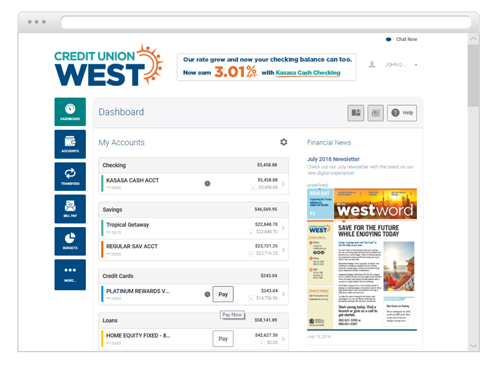 Quick Links 
Bank on the go with app dashboard "Quick Actions" that allow you to manage Bill Pay, Transfers and Remote Check Deposits from your home screen dashboard. 
---
Bank on the Go 
Download Our App
---
Mobile App Features
Manage your banking services right from your phone in the new, improved Credit Union West Mobile App.

Phone Integration
Mobile Snapshot
The mobile snapshot allows you to preview selected account overviews outside of the app login. 
Custom Notifications
Customize push notifications for your banking actions like remote deposits, transfers, account balance thresholds, bill payments, and more! You can even choose what channel to be notified on for each alert type. For example, you could request SMS messages for budget alerts, but email notifications for your bill payment verification. 
"Sneak Peek" Balance widget
Preview account balances on your iPhone widget screen. 
Log-In Capabilities
Touch or Face ID Compatible
Devices compatible with Face ID will now be able to utilize the recognition feature for app login, in addition to the Touch ID option. 
Multi-factor authentication  
Manage multi-factor authentication settings to fit your login security preferences. 
App Interface 
Secure Messaging Inbox
New secure messaging inbox on the mobile app. View past conversations, track current messages and create new messages to get support right from your phone.
Profile Controls
Update personal, account, and login information directly in your mobile app profile settings.
Stop-Payments
Now you are able to place stop-payments directly from your mobile app. 


Personalized mobile view
Personalize your mobile dashboard view, independently of desktop profile so that you can get right to the actions your looking for, no matter what device you're on.
REmote check deposit
Deposit checks from the comfort of your own home with the mobile, check deposit widget! 
Mobile App Updates
For optimal security and performance, please ensure your app is updated with each new release.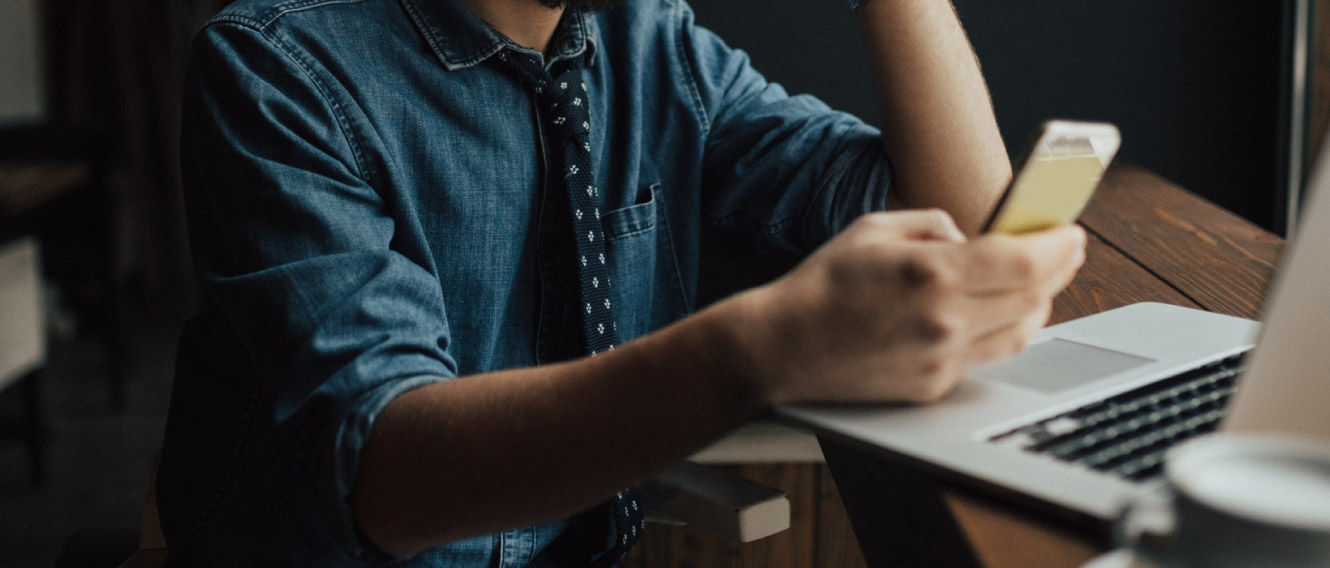 SECURE, CONVENIENT, FLEXIBLE
Online & Mobile Banking.
Access your accounts at any time from any location.
 
Credit Union West
Member Survey
On a scale from 0-11, how likely are you to recommend Credit Union West to a friend or colleague?
There was an error submitting the form
Thank you for your feedback!