Online Banking
Close online banking
The Top Six Benefits of a Credit Union West Checking Account
Credit Union West checking accounts come with a number of perks. From saving on fees to earning higher dividends on account balances, there are several reasons why you should consider opening one. Here are the top six reasons why you need checking and how to take advantage of all your member benefits.
1.     Free checking without check-cashing fees
We offer three checking account options to fit any lifestyle: Traditional Checking, Heritage High-Yield Checking™ and Loyalty Rewards Checking™. All three options are free of monthly service fees and you will never see a minimum deposit requirement either. Better yet, when you have a checking account, you no longer need to rely on check-cashing services that charge you a fee to access your funds.
2.     Earn cash back or high-rate rewards
With our rewards checking options, your account can actually earn a monthly high-rate reward. When you meet monthly requirements, a Heritage High-Yield Checking account will earn an annual percentage yield on account balances of up to $10K and a Loyalty Rewards Checking account will earn up to 2% cash back on purchases of up to $400 each month.
3.     Set up direct deposit and get paid up to two days early
When it comes to direct deposit, we make it easy to move your money to Credit Union West. With Click&Switch, you can quickly and securely switch your recurring direct deposits and automatic payments from your old bank or credit union to your new CU West account. Plus, once your direct deposits are set up, we make your funds available up to two days early with our Early Pay Program! It's completely free, automated, and no-hassle.
4.     Free access to Allpoint ATMs around the world
When you bank with Credit Union West, your money is never out of reach. Your checking account comes with free access to the Allpoint ATM network, which boasts more than 55,000 ATMs worldwide, so you can access your accounts no matter where you are! Use our map to find an ATM near you. 
5.    Manage your money on the go with our banking app
With our Mobile Banking app, you get the technology you need to reach your financial goals. Not only can you make transfers, deposit checks, and pay your bills from your smartphone, you can set up savings goals and stay on budget all in one place. Plus, get your up-to-date credit score and report when you enroll for our free credit monitoring tools.
6.     Member-exclusive discounts and savings
With our member discounts and savings, you get exclusive credit union member prices and discounts for your favorite companies. You can save on movie and concert tickets, tax services from H&R Block, and even get discounts on your cell phone bill!
Ready to get more from your finances? Get a checking account at Credit Union West and break free of the fees. Open your checking account online or in person at any branch and put yourself on track for financial wellness. 
Get more out of your money 
No-fee Checking Accounts¹
Heritage High-Yield Checking™
Loyalty Rewards Checking™
Traditional
Checking

4.07% APY

 

2

on balances up to $10,000




2% Cash Back

on purchases up to $400 per month









Account Features & Benefits:
Account Features

Free checking.1
No minimum deposit
No monthly service fee

NCUA insurance coverage for your deposits up to $250,000

Free Services

Mobile App with Remote Check Deposit
eStatements
Online Banking with Bill Pay

Mastercard Debit Card




Membership Benefits
1

 

"no-fee" – No monthly service fee; however, fees incurred for overdrafts and/or stop payments may apply. Refer to our Fee Schedule and membership account agreement for further details.
2APY = Annual Percentage Yield.
3Foreign transactions may be subject to a foreign currency conversion fee. Fees assessed are determined by card processors. Refer to Membership Account Agreement for further details.
4 Funds must be pending in the ACH warehouse to post early. Any automatic funds transfers (AFT) will happen at their normal time.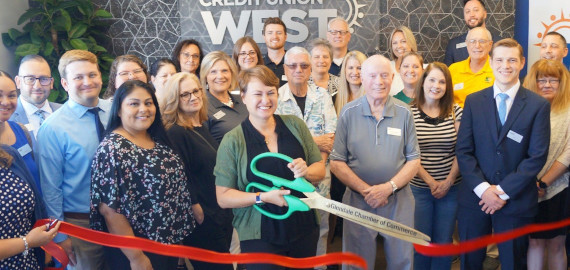 Papago Branch Grand Opening
On July 10, 2023, we celebrated our newest branch with a ribbon-cutting event and donation to a local non-profit.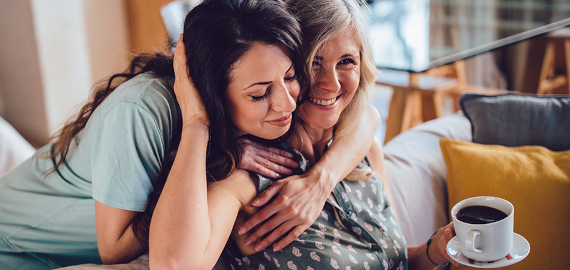 Is Debt Consolidation For You?
Too much debt can be burdensome and cause unwanted grief for families. Here's how we can help.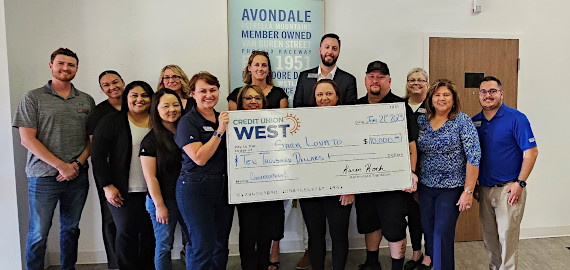 Awarding Member $10K Prize
We are excited to announce the winner of our 'Spend to Win $10K' promotion as part of our annual...
Credit Union West
Member Survey
On a scale from 0-11, how likely are you to recommend Credit Union West to a friend or colleague?
There was an error submitting the form
Thank you for your feedback!