Online Banking
Close online banking
Join our award-winning team.
Credit Union West Increases Minimum Hourly Wage to $20
September 1, 2021, Credit Union West announced it will raise its minimum hourly wage to $20 per hour.
"As a Top Company to Work For in Arizona for nine consecutive years, we are committed to supporting our hire to retire philosophy," said Karen Roch, President and CEO of Credit Union West. "Providing competitive compensation and attractive benefits ensures we are taking great care of our team so they can take great care of our members."
In addition to high pay wages, Credit Union West also offers the following:
$200 wellness reward for fully vaccinated employees

Full-time employees receive 100% paid health, dental & vision insurance

Earn incentives up to 20%

401K plan with employer matching funds up to 5%

Tuition reimbursement

Gym membership reimbursement

Paid time off for holidays, vacation, sick days, bereavement and jury duty

Remote work for various positions

Diverse and inclusive workplace

Credit Union West membership and discounts
Credit Union West continuously looks for ways to improve employee satisfaction and experience. In phase II of the compensation and benefits adjustments, the organization will be honoring employee work anniversaries with a paid day off. This additional benefit will take effect beginning January 2022. 
"Increasing the minimum wage is just the beginning for us," said Roch. "Anniversaries are important. Each one represents the individual's loyalty to the organization and this new benefit is just another way we can recognize and give thanks to our employees."
Credit Union West is hiring for multiple positions in member service and information technology, some with remote work available. To learn more about careers at Credit Union West or see a full list of employment benefits, visit cuwest.org/careers.
What to be a part of a great team?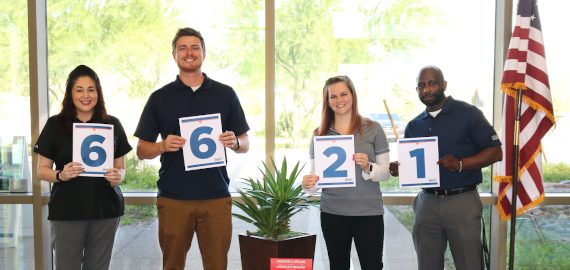 CELL PHONES FOR SOLDIERS
Since 2010, Credit Union West members and employees have donated 6,621 phones equating...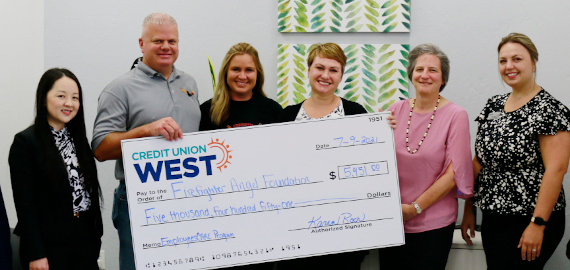 FIREFIGHTER ANGEL FOUNDATION
In supporting families in crisis, our employees made a donation of $5,451 to the Firefighter Angel...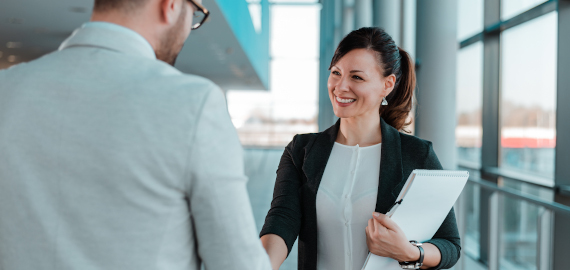 Prescott Valley Branch Relocation
Construction on a new, larger facility for our Prescott Valley branch location will be completed in the... 
Credit Union West
Member Survey
On a scale from 0-11, how likely are you to recommend Credit Union West to a friend or colleague?
There was an error submitting the form
Thank you for your feedback!