Online Banking
Close online banking

Home
About/News & Information
Exclusive Member Discounts on Tax Services
Exclusive Member Discounts on Tax Services
How to e-file your tax return and save!
Have you filed your taxes yet?
Consumers are turning to tax professionals like TurboTax and H&R Block more this year than ever. According to the IRS, e-file returns are up 15.7% compared to last season.* If you haven't filed for the 2022 tax year, consider the benefits of e-filing.
Filing your taxes online has multiple advantages over traditional paper filing. It is considered safer than mailing your return because your personal information is encrypted. Using tax software to prepare your taxes can be faster because it does the calculations for you and can help you avoid errors that could lead to penalties or delays. Refunds generally come quicker, too, since e-tax documents are processed digitally. Plus, as a Credit Union West member, you get exclusive discounts on tax services from Love My Credit Union Rewards. 
How to File Your Taxes Online
Filing your taxes online is pretty straightforward. Here are the basic steps you'll need to follow:
Choose a tax software program: There are many tax programs available, including popular options like TurboTax and H&R Block. See the exclusive discounts available to you as a Credit Union West member.


Gather your tax documents: You'll need your W-2 form, 1099 forms, and any other relevant tax documents to complete your return. Be sure to review all tax documents carefully, as they contain important information about your income, deductions, and credits. If you're missing a financial document, contact your bank or financial institution to request a copy. Depending on your financial situation, you may receive additional tax documents from your financial institution, including:

Form 1098: Mortgage interest statement

Form 1099-INT: Interest income from savings accounts, CDs, and other bank accounts

Form 1099-DIV: Dividends and capital gains from investments held in taxable accounts

Form 1099-B: Proceeds from broker and barter exchange transactions

Form 5498: Contributions to an individual retirement account (IRA)




 

Follow the prompts: Most tax software programs will guide you through the process, asking questions about your income, deductions, and credits. Be sure to enter all the relevant information from your tax documents accurately to ensure you get the maximum refund possible. If you're unsure how to enter a particular item, consult the software's help section or contact a tax professional for additional assistance.


Review and submit: Even though tax software can help you avoid errors, it's still important to review your return carefully to ensure that all information is accurate and complete before submitting. Some tax services offer live support from tax professionals to help answer your filing questions. Once you're satisfied, submit your return electronically. Most tax software programs will estimate your refund or amount owed, so you'll know what to expect before you file. If you owe taxes, be sure to pay the IRS by the tax deadline to avoid penalties and interest.


Keep copies of your documents: Be sure to keep copies of all your tax documents, including your tax return, in case you need them later.
By gathering all of your tax documents and using online tax software, you can make filing your taxes easier and more efficient. At Credit Union West, we partner with Love My Credit Union Rewards to offer our members discounts on tax preparation software, so you can file your taxes quickly, and get the best possible refund. We also provide online bill pay and account management tools that help you stay on top of your finances all year.
Exclusive Member Discounts on Tax Services
Save on taxes – filing deadline April 18th 
Don't wait until the last minute to file your taxes! Whether you file on your own or hand your taxes off to a tax pro, get exclusive discounts on tax services just for being a Credit Union West member! 
TurboTax or H&R Block - Enjoy exclusive member discounts on the tax software of your choice

Members can access live or in-person expert tax help from either TurboTax or H&R Block and receive the exclusive member discount

New and returning filers are eligible to receive these special tax savings
April 18th is the tax deadline. Get your credit union member discount on tax services from Love My Credit Union Rewards. 
*as of February 3rd, 2023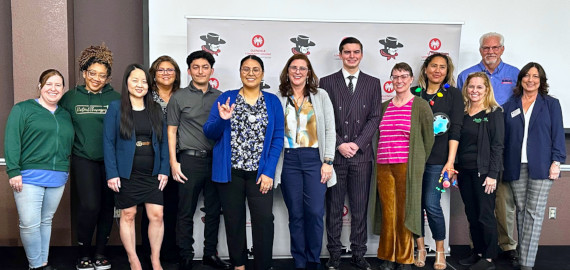 GCC Entrepreneurs Win $5,000
For the fourth year, we partnered with Glendale Community College to sponsor the Innovation Challenge.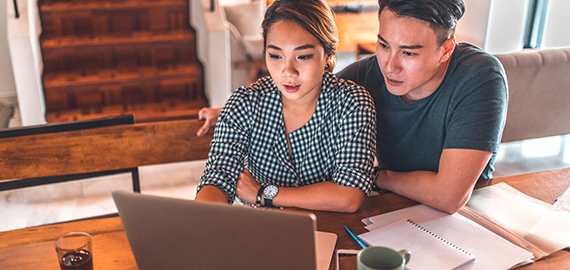 Five Ways to Build Credit History 
Your credit score is a number based on your financial history. The higher your score, the more credit-worthy...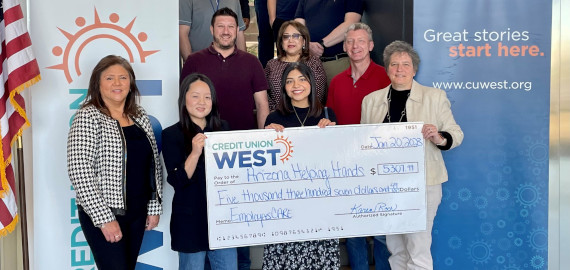 Donation to Aid Foster Children
In their final EmployeesCARE donation of 2022, our employees donated $5,307.49 to Arizona Helping Hands.
Credit Union West
Member Survey
On a scale from 0-11, how likely are you to recommend Credit Union West to a friend or colleague?
There was an error submitting the form
Thank you for your feedback!