Online Banking
Close online banking
Auto Protection Plans
Our Auto Protection Plans give you peace of mind, safeguarding your vehicle during an accident or breakdown. These optional services can help maintain your vehicle and limit your financial risk while offering valuable financial coverage that protects your vehicle when you need it most.
If you've been thinking about buying a new car, or even refinancing your current vehicle, now is a great time to add on valuable vehicle coverage to protect your investment.
Guaranteed Asset Protection: If you are financing more than your vehicle value you can protect your investment with Guaranteed Asset Protection.1,2 GAP will pay the difference between your loan balance and the depreciated worth of your vehicle if it is totaled or stolen.3
Depreciation Protection Waiver: If you have a low loan-to-value ratio, you can protect your cash down investment with a Depreciation Protection Waiver (DPW). DPW is an alternative to GAP, which allows you to recover your equity if your vehicle is totaled or stolen.
Mechanical Breakdown Protection: Mechanical breakdown protection provides coverage extending past typical factory warranties. We offer three tiers of coverage so that you can select which items you want enhanced coverage on.1
The Advantage of Local Lending
Refinance for Low Rates and Low Payments
Options
APR4
TERMS
Optional5
Apply
Auto Refinance Loan
7.74% - 23.50% 

24 to 84 months

No payments

for 90 days
1Not insured by NCUA, NCUSIF or any Federal Government Agency, are not a deposit, may lose value, carry no credit union guarantee.
2Your purchase of GAP Advantage is optional. Whether or not you purchase this product will not affect your application for credit or the terms of any existing credit agreement you have with us. We will give you additional information before you are required to pay for GAP Advantage. This information will include a copy of the GAP Waiver Addendum which will contain the terms and conditions of GAP Advantage benefit. There are eligibility requirements, conditions and exclusions that could prevent you from receiving GAP Advantage benefits. You should carefully read your GAP Waiver Addendum Form for a full explanation of the benefits, rules, terms and conditions of the program. This document is not a contract. GAP Advantage is a loan/lease deficiency waiver and is not offered as insurance coverage.
3Payoff is less delinquent payments, late charges and other insurance related charges.
4
Annual Percentage Rate. Actual APR based upon many factors evaluated at the time of application, which may include, among other factors, borrower's credit history, year of vehicle, loan terms, and any applicable administrative/processing fees. All loans are subject to credit review and approval.
590 Days No Payment option will extend your loan by three (3) months, and finance charges will accrue on unpaid principal.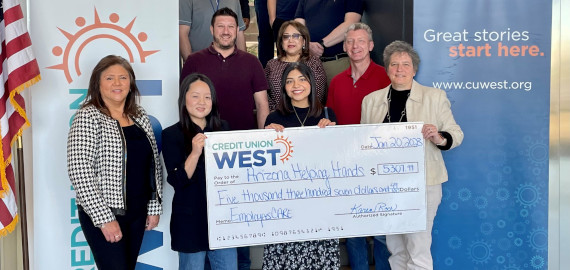 Donation to Aid Foster Children
In their final EmployeesCARE donation of 2022, our employees donated $5,307.49 to Arizona Helping Hands.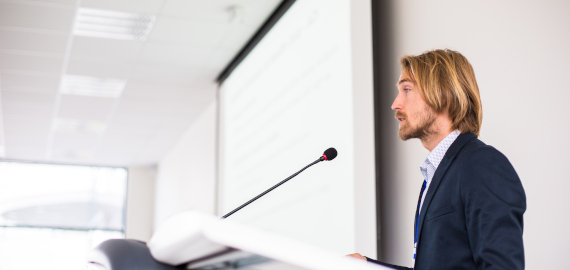 2023 Innovation Challenge
Credit Union West is a proud sponsor of the fourth annual Glendale Community College Innovation Challenge.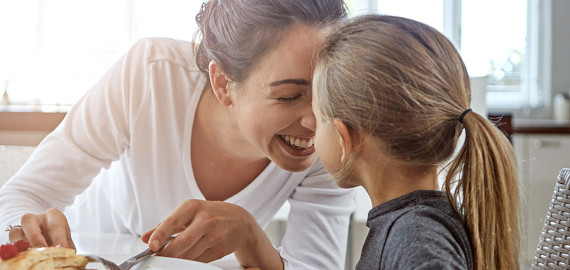 New Year, New Finances
As we move into the new year, now is the perfect time to put a financial plan in place so you're prepared for the future.
Credit Union West
Member Survey
On a scale from 0-11, how likely are you to recommend Credit Union West to a friend or colleague?
There was an error submitting the form
Thank you for your feedback!